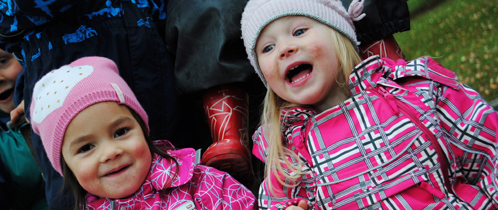 Day care for children
The municipality of Ringsaker has full day care coverage. Our aim is to offer all children who are in need of a place in day care a place in a high quality day care centre.
In Ringsaker we have 16 municipal and 27 private day care centres. Three temporary centres have been opened until new centres have been built. There are also three open day care centres at the health centres in Brumunddal, Nes and Moelv.
The content in day care is versatile and varied, and contributes to the growth and development in the child. Our staffs focus on care, playing and learning. The physical design of our day care centres provides a good environment for play and facilitates giving the children meaningful experiences and activities in safe surroundings.
The municipality of Ringsaker focuses on continually developing the quality of our day care centres and on improving the pupil's learning in school. All day care centres work towards the same objectives in mathematics and English. The children's mathematical competency is developed through play, experiments and everyday activities. They also enjoy activities that involve English. The children meet new challenges through the use of ICT and digital tools. Finally, making use of good transition routines from day care centres to primary school ensures a holistic approach to care and learning.